Outsourcing
Global Delivery Model
Global Delivery Model is one of the most successful delivery models prevalent in today's IT industry. HexCube, through its Unique Relationship Frame Work and Customer Focus Groups, mitigates many of the risks once associated with offshore outsourcing. Being a combination of offshore, onsite model, it offers varied advantages:
HexCube's Unique Global Delivery –Delivery with a difference
Quality Management: HexCube's, offshore technology solutions and services to enterprises & technology companies across the globe. We work with some of the world's innovative ISVs and software-enabled businesses
Cost Effective: Our Offshore delivery centers located in high growth cost competitive geography, offers competitive price alternative by cutting your IT costs by almost over 60%.
24/7 Support: The time zone difference allows our offshore experts to offer continuous help and support round the clock. Our specialization and expertise gives you a competitive advantage, and direct access to technology and training.
Performance Assurance: Prompt communication between our dedicated onsite Project team and offshore teams ensure prompt responses. We use distinct, agreed-upon, measurable performance metrics.
Faster Time to Market: Experience higher ROI by supplementing your organization with world class talent in remote locations, technology solutions are executed faster.
Experience: We have a served a varied Global client base which includes large corporate organizations as well as medium size businesses across a broad range of verticals, as well as respected leaders in Finance & Banking, Insurance, Retail and Manufacturing.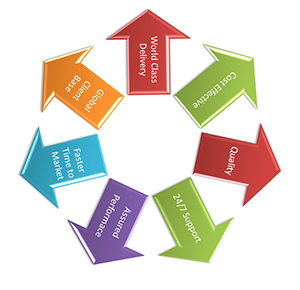 Value Proposition
HexCube is a customer centric company where we strive to understand your IT needs and budgets to implement impactful and dynamic solutions. The cornerstone of our commitment to the customers and the market place has resulted in evolving Niche Products/Solutions and Productizing our Services. HexCube continuously leverages cutting edge tools methodologies and benchmark standards to exceed the expectations of our customers.
We Understand Technology: For over 7 years, HexCube has been partnering with a loyal following of clients seeking to leverage our proven delivery methodology. HexCube's global presence and diverse client base gives us the experience to handle diverse implementations and project management skills. The depth and breadth of our offerings encompasses Product, Solutions and Services that resulted from our impeccable approach in breathing technology. Our state-of-the-art R&D Services helps in bringing the latest technologies and tools quickly to customers around the globe.
We Understand Your Business: HexCube is a Trusted Advisors to our Global customer base that includes large corporate organizations as well as medium size businesses across a broad range of verticals, as well as respected leaders in Finance , Insurance, Retail, and Manufacturing. Our Customer Focus Groups (CFG) has Subject Matter Experts in Business, Technology and Integration architecting the Solutions to address the Real-Time and Futuristic Issues of Customers in different domains and regions.
We Understand the need for Best-in-Quality: Quality and best practices define the foundation of HexCube's process driven approach through consistently providing service excellence through our Global Delivery Model. Quality Practices and Procedures are adopted stringently throughout our organization. We have a tremendous track record in delivering Quality of Service to our Customers worldwide.
We Value Your Budget: We deliver most cost effective and innovative industry-specific IT Solutions & Services, Strategic outsourcing, and Integration services through a unique Onsite, Offsite, Offshore delivery model, resulting in improved business for our customers. Our Flexibility and Adaptability helps us in meeting the changing needs and demands of today's customer. Our Engagement Models be it Time & Money, Fixed price or Hybrid is appropriately tailored to suit the needs of a customer and make it a very beneficial experience. "Customer Satisfaction is Price Less and can be Priced Less".
We Value Your Time: The consistency of deploying qualitative solutions always has been on our founding principle of The Best-of-its-Kind-Process and Delivery methodologies. This has helped us to cater to dynamic needs through Rapid Application Development or helping our customer quick time to market or earning Quicker Return on Investments. Our commitments of On-Time & On-Quality and within Budget have been tremendous assets to our clients.
We treasure Human Talent: The foreword for HexCube is the virtue of having The-Best-in-Industry talent. We have a Unique Team Centric Model in state-of-the-art development centers with experienced professionals comprising of Subject Matter Expertise in Business/Technology from all parts of the world.