Application Development
To strive and succeed in this dynamic market place, enterprises need to contemplate and evolve to the changing business needs. Also it is critical for the organizations to develop and manage their mission-critical business applications.
HexCube Technology Solutions has positioned itself as the global leader in the field of Application development, IT Consulting and Outsourcing Services enabling our clients to develop, deliver, control and manage critical apprehensions of software, thus reducing the overhead expenses and helping to get better Returns on Investments (ROI).
We use state-of-the-art technologies in Application Development and Engineering services to translate your IT vision into reality. With our proven track record in application development, application engineering, maintenance and consulting services, we are committed to develop technology-driven solutions that meet the requirement of changing business environment.
HexCube follows a defined application development and management methodologies that cover all aspects of the software development life cycle (SDLC). Our quality management system ensures that each phase of the SDLC has adequate reviews, controls, and check-points built into the development process. Our application management services are much cost effective and are extensively supported by Offshore Delivery Center (ODC) that provides greater flexibility, scalability and seamless integration. On need basis, our project engagement models include Offshore, Onshore and Near Shore delivery models.
HexCube's Application Management services suite includes
Desktop Application Development — developing secured and scalable desktop applications leveraging latest technologies, tools and platforms customized to your enterprise needs
Legacy Modernization Services — modernizing your legacy applications and transforming it to higher performing assets, which can transform your inert business practices to more agile and vibrant
Application Migration Services — Migrating your current applications to the latest version or to a new technology to optimize the application and performance efficiency
Web Application Development — developing and customizing web applications leveraging latest technologies such as AJAX, ASP.NET, CSS, Java EE, JavaScript, PHP, and so on, that can be accessed over Internet or Intranet through web
Phases of Application Management Services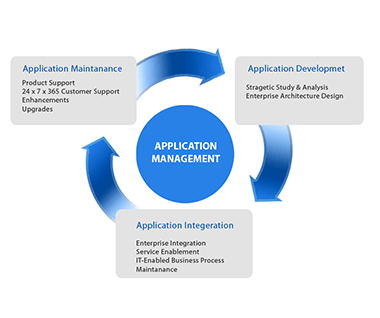 Key Benefits of HexCube's Application Management Services
Our Application Management Team consists of Subject Matter Experts in Application Development, Integration, Deployment, Performance, Support and R&D and with customized quality processes applied across each engagement
Leads to overall cost optimization and ensures better output
Flexible resource model and engagements through our State-of-the-art 'Application Lab'
Increased savings by using best application management system and process engineering
Enhancing operational efficiencies through multi-tiered application development approach
Faster time to market
Lesser maintenance and support cost
24 × 7 × 365 support